Drones Invade LA And RotorDrone Magazine Was Part Of All The Action!
The unmanned Aerial Vehicle Systems Association (UAVSA) has established itself as a premier player in this fledgling industry, signing up thousands of new paid members in just a few short months while also rolling out the Drone Expo in Los Angeles on December 13, 2014. We are very excited to be a part of this growing organization as the official UAVSA media partner.
"We've become the largest commercial drone association in the world almost overnight," says UAVSA co-founder Keith Kaplan. "It's really gone viral."
Looking ahead, Kaplan sees the Drone Expo growing to rival organizations like the CES and other national trade shows in the next few years. Even in its first year, it exceeded expectations: during the first hour, more than 3,000 people had been admitted!
"Originally, we were going to hold this event at historic Santa Monica Municipal Airport, but there were two factors that made us change the location to the Los Angeles Memorial Sports Arena," he said. "The first was, if people purchased a drone at the show, they might want to take it outside and fly it right away — and that wouldn't be a very good idea at an active airport."
RotorDrone Magazine was part of all the action at the Drone Expo this past Saturday. Drones and their payload capacities were on display everywhere .The hit of the show was the new DJI Inspire (dji.com), which has a 12-megapixel camera that can take 4K video. The retractable arm system provides an unobstructed 360-degree view for the camera. A 3-axis gimbal keeps shots steady and the camera pointed the same direction as the quadcopter banks and turns. The Gravity controller from UAVX (uavx.com) also turned heads at the Drone Expo with its distinctive, bright orange housing, featuring a 7-inch,1280×800 WXGA touchscreen.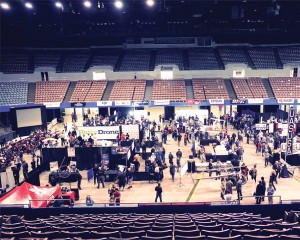 Other attendees include lens and imaging manufacturer Zeiss — established in Jena, Germany in 1846 by legendary optical pioneer Carl Zeiss. They demonstrated their Cinemizer video goggles, which are gaining popularity among First-Person View pilots for their crystal-clear displays and ability to accept either an analog SD video signal or an HD video signal via an HDMI input. Also, renowned servo manufacturer Hitec (hitecrcd.com) made its official entry into the multirotor segment at Drone Expo with the debut of the Hitec Q-Cop 450 quadcopter.
Once the UAVSA is well established, the Tesla Foundation will spin it off to become its own, independent organization — a move that will happen relatively soon if the explosive growth of the industry is any indicator.
"Drones are a technology with almost unlimited potential," said Kaplan. "Think back to when the first smartphones became available, maybe seven or eight years ago. There were like 1,000 apps available.
"Today, there are close to 1 billion apps on the market, and new ones are coming out constantly. It's going to blow our minds, what we'll be able to accomplish with this technology in the years ahead." To read more about the Drone Expo that was in Los Angeles, pick up the January/February 2015 issue of RotorDrone Magazine or head over to RotorDroneMag.com .