DJI's official premiere of the Phantom 3 took place today in New York City, and Rotor Drone Magazine was there to catch all the action! DJI introduced two versions of the Phantom 3: Phantom 3 Professional and Phantom 3 Advanced. The biggest difference between these two is the camera. The Pro shoots 4K Ultra HD video at 30 fps, and the Advanced shoots at 1920 x 1080 resolution at up to 60 fps.
The new Phantom 3 offers live streaming video to the web, including sites like YouTube. The Phantom 3 radio controls the flight and camera, which leaves the radios of your mobile device free. This in turn allows you to stream live video!


Other improvements seen at the premiere were the Phantom 3's enhanced GPS tracking, ground-detecting sensors and enhanced stabilization. This gives this new model more precision while enhancing safety and lowering the difficulty threshold for new pilots.
 Air Age Media caught all the show highlights!

Publisher Yvonne DeFrancesco and Editor Matt Boyd on scene at the DJI Phantom Premiere.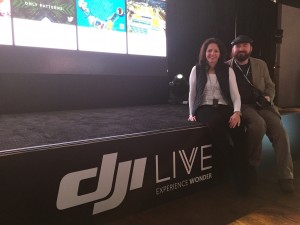 A live stream from the DJI Phantom 3 flying over the Singapore skyline during the premiere!
The DJI Phantom 3 made a grand entrance–literally landing on its pedestal for a debut!