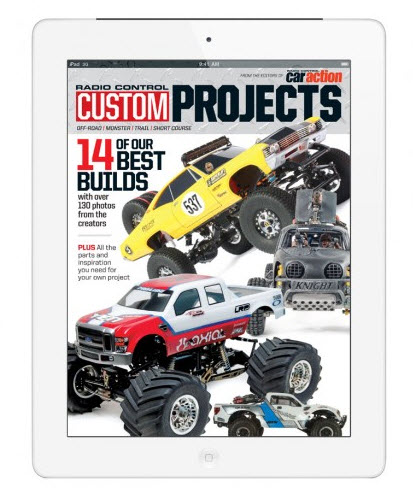 If you need inspiration for your next build, look no further–you'll find 14 of our favorites right here! We've collected the best customs from RC Car Action and put them all in "Radio Control Custom Projects," which you can download right now from AirAgeStore.com. Inside, you'll find over 130 photos, complete parts lists, and all the info about what went into creating each custom car and truck. Monster, scale, track–they're all here.
You'll view the book using the same interface as our Digital Edition magazines, so it's easy to search articles and and live links make it easy to find the cars, trucks and gear you discover inside. You can even download the book as a PDF.
Click to get RC Custom Projects now!
Table of Contents
Axial Yeti Monster Truck
Solid-Axle Shocker
Class 5 Baja 1000
YOLO-inspired Bug
Losi 5IVE-T 2WD
Modding Losi's Formidable 4X4 Into a 2WD Titan
Justin Hilton's NSP-1
Real Steel Trick Trophy Truck
James Knight's Desert Patrol Vehicle
Super-Detailed Sand Striker
Modern Monster Beetle
Building a modern-day version of Tamiya's old-school classic
Mad Max Road Warriors
3 Customs to Conquer the Wasteland
Trail Raptor
Traxxas' trail-fighting Ford
Baja Builds
3 Custom Cars Designed to Duel in the Dust
Slash 4×4 Buggy
Short Course Truck To 1/8-Scale Racer